Unsigned Dickert * Gill, Lancaster, Pennsylvania ca 1815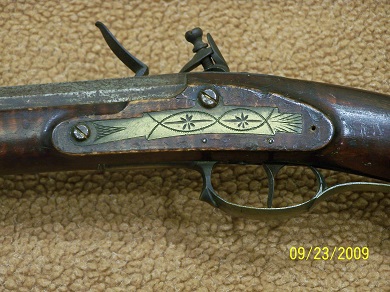 Jacob Dickert's grandsons were both trained by and worked with him in Lancaster producing custom made rifles and rifles for the western trade. Grandsons Jacob Dickert Gill and Benjamin D Gill are likely responsible for production, while grand dad Jacob was supervising. This example is similar to a rifle signed "Dickert Gill" formerly in the Vince Nolt collection and pictured in "Kentucky Rifle Patchboxes and Barrel Marks" on page 205.

The rifle is in near perfect condition with all it's untouched surfaces, original lock in unaltered condition, with no restoration. It was mounted on a wall in a Bedford, PA funeral home until about 30 years ago. The octagon to round smooth bore barrel is .50 cal and 43.5 inches long. A crack in the curly maple stock runs along the fore arm; there doesn't appear to be any trauma to the wood that would cause the crack. Rifles of this era seldom surface in this condition; a real rarity in Lancaster rifles.

Available at $5,950.00

---
SOLD SOLD Signed "J Y" Jacob Yeager, Warriors Mark Township, Huntingdon cunty, PA ca 1850

A very decorative rifle by a rare maker working in Huntingdon County. Jacob Yeager was born in 1822 so he probably finished his apprenticeship by 1840. This rifle displays American Indian motifs on the patchbox lid and a silver inlay in the shape of a tomahawk appear on the stock. Any use of American Indian motifs are extremely rare and desirable on Kentucky rifles.

The rifle appears in beautiful condition. It has no restoration with only a minor loss of wood at the top of the lock. All parts are original to the rifle including the lock. The 32 inch rifled barrel is about .45 cal and has never been re-breeched. The rear sight was moved back and the original location has a nicely fitted iron patch. This was often done as an owners eyesight failed over the years.

SOLD 4/21

---
SOLD SOLD Signed "J H Johnston" John H Johnston, Waynesboro, Franklin County, Pennsylvania ca 1835

This is an absolutly beatuiful rifle in every respect including artisitc decoration, engraved metal work, the best curly maple, and superb condition. J H Johnston was a prolific maker and many of his rifles survive. However, only a small handful of his rifles reach the beauty and decorative quality present on this example. The 42 inch rifled barrel is .42 cal, coned and beautifully signed in script "J H Johnston" and has never been altered in any way. The curly maple is superb in its curl; mostly bold in the butt stock and lightening up along the fore arm to the fore end cap. He could not have picked a more beautiful piece of wood.

The rifle remains in beautiful condition with only 2 small pieces of wood restored on the forestock in the most profession manner. There are 3 escutcheons on each side of the forestock; the center one is decorative only, the other two are both decorative and functional. All silver inlays are nicely engraved and some are interspersed in the carving behind the cheekpiece. This is an effective method of enhancing the carving and was used on the best rifles further south in the Shenandoah Valley. Considering all the decorative elements on this rifle together with pristine condition, excellent curly maple, and one of Johnston's most artistic achievements I beleive this rifle will enhance anyones collection.
SOLD 3/21

---
SOLD SOLD Signed "C Beck" Christian Beck, Jonestown, Lebanon County, Pennsylvania ca 1815

Born in 1782, Christian Beck was the son of J. P. Beck, from whom he learned the trade. He died in Jonestown in 1861 at the age of 79. This rifle, made about 1815, remains in nice original condition. The whale tail patchbox is recognizable as a Lebanon icon and used by J P Beck, Nicholas Beyer, and others. Few rifles by this Christian Beck are engraved but all exhibit exceptional workmanship, architecture, and carving.

The lock is original to the rifle and is an early "handmade" style possibly made by Beck but more likely improted from Germany. Signed "C Beck" in script on the 41.5 inch original length barrel. The style of the trigger guard and sideplate are nearly identical to those of J P Beck and Beyer suggesting they all used the same casting molds. A very nice relief carved rococo motif is masterfully carved behind the cheek piece. Nice carving appears at the barrel tang. Minor restoration has been professionaly done and is difficult to detect. A couple slivers of wood are replaced along the forestock and a piece restored under the lock probably when the mainspring popped off and damaged the wood.

I purchased the rifle from Joe Kindig III in 2005 and sold it years later. I recently re-acquired it; rifles of this quality are always in demand.
SOLD SOLD 1/21

---
SOLD SOLD Signed "G FOLTZ" Geroge Foltz, Salem, North Carolina ca 1830

George Foltz was born in 1798 in Nazareth, PA. He came with his parents to the Wachovia Community and was apprenticed to Christopher Vogler in 1816. By 1819 he had completed his apprenticeship and later worked with Timothy Vogler in Salem. This fine rifle stocked in curly maple has all the characteristics of the Salem school and was made in the flintlock period. Staples (one missing) under the cheekpiece held a vent pick used in opening a fowled touch hole. The rifle was converted to percussion not long after it was made, then converted back to flintlock as it was originally.

Nearly void of decoration the rifle was made for a person who did not want or need a showy patchbox or silver inlays that would reflect light and disturb the game he was hunting. Some would say it is a working man's rifle; that may apply to regions in the north. However, in the South a rifle like this would be considered a fine rifle focusing on the rifled barrel, intricately made set triggers, and architectural beauty and strength. The condition and surface quality are superb having pleasing patina, very minor restoration, the original lock, and sturdy but eligant lines. The rifled .42 cal barrel is over 46 inches long loosing only an inch when converted to percussion. The bore is clean and shinny indicating (along with the newly replaced front site) the rifle has been used. A small piece is missing at the toe and could be repaired.

Salem, North Carolina rifles are rare and desirable. The Vogler's were the gold standard in the early 1800's; they seldom surface for sale. This rifle by George Foltz is beautiful, affordable, and representative of the Salem school. Foltz made some highly decorative rifles as neatly done as those by the Voglers.

SOLD 2/21

---