SALE PENDING Signed "J Roop" Jacob Roop, Halifax, Dauphin County, Pennsylvania ca 1815

Jacob Roop's work is always appealing and well done. He probably learned his trade in York from a really great master; possibly Samuel Grove. His signature during this period appears as small stamped block letters on the barrel. He added many silver inlays on this rifle as well as a silver oval cheek piece inlay and silver thumb plate. The 41 & 1/2 inch rifled barrel is the original length. Curly maple of medium quality was used and there is no damage or replacements. Of particular interest; the lock is marked "Sweitzer" (a well know lock maker of the period), is original to the rifle, and in orignal flintlock condition (never converted to percussion). The patchbox is masterfully engraved as is the toe plate. The rifle is in as perfect condition as could be expected and far exceeds the condition of most; a safe investment.

SALE PENDING

---
Signed "G B" Uknown, Botetourt or Rockbridge County, VA ca 1810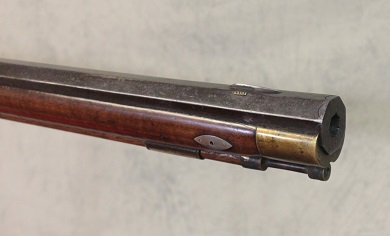 There are 3 rifles signed similarly with stamped initials " G B" all from the tri-state region of Virginia, North Carolina, and Tennessee. To date no one has definitively attributed these rifles, however, the name George Bean has been put forth by the owner of one of these 3. George Bean died in Franklin Co, TN in 1818. This rifle relates to others from Botetourt/Rockbridge County area, ie. John Wilson, J Crider, John Davidson, and the early "J C" rifle. Common details of the GB rifle as it relates to these other makers are a faceted comb, a silver inlay above the patchbox finial, draw loops the head ofwhich appears as a forestock escucheon, the patchbox plates extend beyond the edge of the butt plate, and a triangular butt stock architecture. This is a fine, well-made rifle of the South.

The rifle has been converted to percussion using the original lock and having a patent breech added to the barrel rather than the usual drum and nipple. This is the only change made to this well-used but well cared-for rifle. The rifled barrel is 43.5 inches and about .40 cal. The patchbox lid release is a button located on the upper plate of the patchbox like rifles of a similar period in North Carolina. The condition and rarity of this example will insure its value.

Available at $19,950.00

Thanks to Wallace Gusler for research on the GB rifle group

---
Signed "G Slaysman" George Slaysman, Mifflin County, PA ca 1820



A highly artistic gunsmith, George Slaysman worked in Mifflin County in his early years. He moved to Huntingdon and then to Jefferson County, PA where he died in 1862 at age 80.

The rifle exhibits a wonderful array of artisitc ability. The patchbox is beautifully designed and engraved as is the eagle cheekpiece inlay. His carving behind the cheekpiece is well designed and executed. The toe plate is extraordinary and well done. The lock is signed in script "G Slaysman" as is the barrel which is restored to 43.75 inches. This decorative rifle has been well taken care of and professionally restored with all the important artistic components intact. This is a pleasing rifle by a rare and esteemed maker.

Available at $7,950.00

---
Unsigned John Wilson Associated, Botetourt Co, VA or Middle Tennessee (The Cumberland) ca 1820

A long slender flintlock Kentucky rifle of modest decoration in excellent condition. Made by a yet unknown gunsmith working in Botetourt County, VA or Central Tennessee (The Cumberland). Identifiable by its faceted comb, diamond shape lock bolt plate, long 2-screw barrel tang, simple lower butt mold, and deeply sculpted cheek piece. The flintlock is in unaltered condition.

Acquired from the family in Kentucky by Shelby Gallien and pictured in his book, he attributes it to Scott County Kentucky, north of Lexington. The .42 cal rifled barrel is 46.5 inchges long, it's original length. The stock retains its original surfaces. All brass mounts are original. Attribues are pleasing architecture, desirable condition, and unembellished simplicity.

Available at $8,450.00

Photo Credit Mark Elliot

---
Unsigned Isaac Ribelin, Morgan Township, Rowan County, North Carolina, ca 1825

Rifles by Isaac Ribelin are rare and highly sought after. He worked in Rowan County, North Carolina during the second quarter of the 19th century. Famous for the "Christmas Tree" patchbox, a long slender form with horns ending in a tapered tip, deeply sculpted cheekpiece, and well-formed molding around the trigger guard.

The rifle exhibits a wonderful array of artisitc ability. The patchbox is nicely engraved as is the cheekpiece inlay, thumb plate, and sideplate. His carved moldings around the trigger guard, comb, and lock mortice are well done. Ribelin's work is unique and recognizable. Though highly restored this rifle offers the North Carolina rifle collector an oppotunity to own the essential aspects of Ribelin's work at an affordable price. Restoration details will be discussed with those who are seriously interested.

Available at $12,500.00

---