SOLD SOLD Early Blacksmith Made Rifleman's Pole Axe ca 1800-1820

Here is a nice rifleman's poleaxe of small size; blacksmith made lap welded over an oblong mandrel with a steel bit. An excellent haft with some age. It shows years of usage. Blade 4.25 inces; haft (including blade) 11 inches. From an old and reputable collection.

SOLD 4/18


---
Philadelphia Chippendale Tall Case Clock signed Peter Spurch ca 1780

A fully developed late Chippendale case in figured mahogany with boldly carved rosettes. This is a rare example by Peter Spurch, who is famous for his cannon ball clock at Monticello. Correspondence between he and Thomas Jefferson show that the cannon ball clock needed adjustments after installment to get it running correctly. 93 inches to the top of the center finial which is a replacement. The flanking finials are orginial except for both tips are restored. All finials and center plinth are now finished as the rest of the case. The center finial orginially may have been more elaborate. The clock runs and strikes perfectly. Works have been cleaned with new cables. Interestlingly, Spurch made the works to run faster than 1 tic per second; it has a shorter pendulum. Email me for more pictures.

Available at $7850.00

---
Sheraton "D" End Drop Leaf Banquet Table, Baltimore, MD ca 1825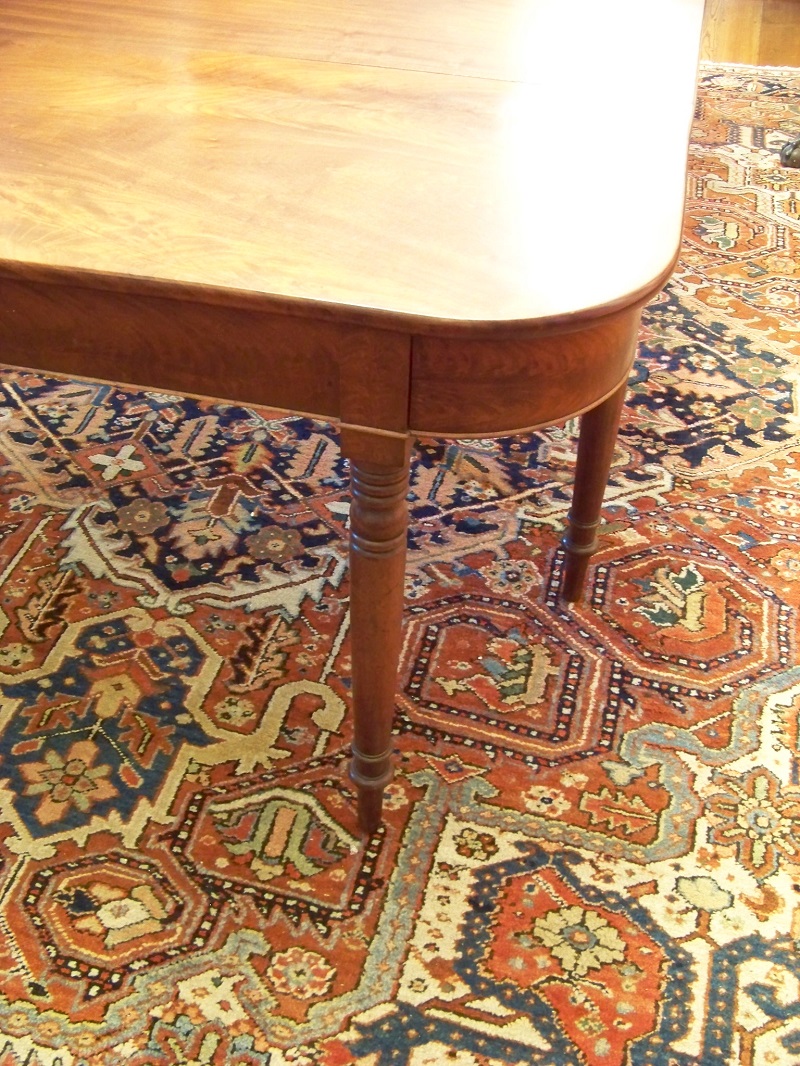 Solid Mahogany with a figured top on each "D" end. Figured Mahogany skirts with nicely truned legs. Both "D" ends have drop leaves of straight grained solid mahogany that are supported by a gate leg. 29 & 1/4 inches tall X 85 inches long X 42 inches wide. All with a nice shellac finish, no major damage, and ready to use.

Available at $1950.00

---
Shenandoah Valley Walnut Corner Cupboard, Augusta County, VA ca 1830

Solid Walnut, single door, Small size corner cupboard purchased in Staunton, VA from the original family. Poplar secondary woods, replaced locks and escutcheons, original hinges and glass. Original but cleaned finish showing slight crazing. With straight back sides taking only 28 inches of wall space. Case is 37 & 3/4 inches wide X 83 inches tall. Old green painted rough sawn back boards done after a repair near bottom of one backbaord. Nice surface, excellent condition, and ready to use.

Available at $2950.00

---
Early Stag Handle Rifleman's Knife ca 1770-1820

Here is a nice rifleman's knife; probably blacksmith made with iron rivets and poured lead filler. It shows years of usage evidenced by wear and patina. Previously owned for years by Wayne McNeese. Blade 7.5 inces; overall 12 inches. I have more detailed pictures.

Available at $650.00

---
---