Unsigned Brass Barreled Rifle, Central to Southern Shenandoah Valley, ca 1820

Most unusual and decorative, this rifle has a 41.5 inch brass barrel with a .42 cal rifled bore. About 3 inches of the barrel at the breech is iron; the front sight is silver and the rear sight is brass. The 2-screw tang is typical of rifles made in southern Virginia, Tennessee, and Kentucky.
Double ramrod pipes and well defined forestock molding are pleasing details. The rear ramrod pipe has a tiny copper rivet securing the tang to the pipe. Double acorn escutcheons of silver protect the wood around the rear drawloop; the other 2 are different.
The flintlock is typical of the 1820 period, is original to the rifle, and is stamped "LONDON WARRANTED".
Very desirable and highly curled maple was used for the stock and remains without restoration or replacements. The mellow finish is orginal showing no signs of cleaning or damage.
3 silver inlays including a weeping heart appear on the comb and a silver heart inlay is used for the thumb plate. The top extension of the butt plate has a heavily molded wedding band. An 8-point silver star rests on the cheek piece and is accompanied by 2 weeping heart silver inlays. There are a total of 15 silver inlays one being an unusally shaped fore arm wear plate.
a 3-petal flower is used for the patchbox finial; the forth petal would have been engraved below the screw. The gunsmith did not engrave any of the metal mounts, not even a simple outline or wigglework. His talent and ability is apparent in casting the brass barrel, attching the iron section at the breech, and rifling it. The stock has pleasing architecture.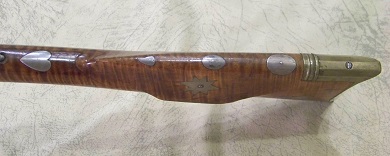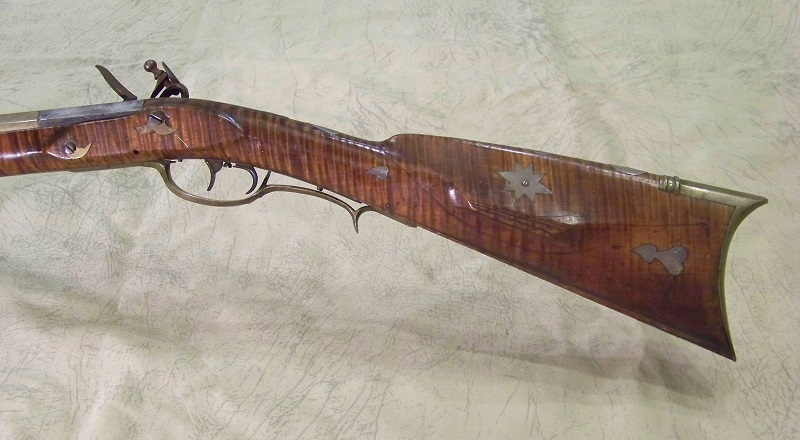 Though made by an unkown gunsmith in a general region this rifle is one of the most intriguing examples of southern decorative arts. Many southern rifles were used up and/or destroyed during the Civil War making it hard to pinpoint rifles with singular charcteristics. Unusual objects of fine workmanship that depart from tradition demonstrate the indiviuality of our early artisans.
Ex Coll: Shelby Gallien

SOLD