Unsigned Jonathan Brelsford, Zanesville, OH Ca 1820

Jonathan Brelsford is listed as a gunsmith in Muskingum County as early as 1814. He occupied several residences in Zanesville until his death in 1891. He came from Pennsylvania and his wife, Elisa, from Maryland.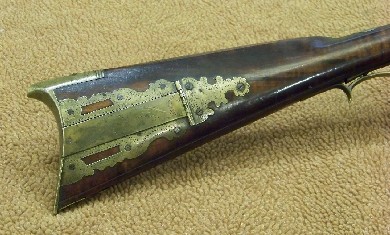 The patchbox on this, his earliest known rifle, is of the Lancaster daisy style. This may indicate the area of his apprenticeship. It is nicely engraved using an elementary vocabulary of rococo details. The lid has been repaired or is possibly replaced.
Brelsford excelled in his carving technique. The carving elements on this rifle are interesting, incorporating two capsule shaped motifs with fluting and crosshatching, an area of fine fluting or gadrooning, an S scroll with veining, and some chip carving. All well executed in high relief but somewhat disjointed in design. Relief carving is a rare and desirable detail on Ohio rifles.
The sideplate is engraved in the same style as the patchbox and a design used by him on later rifles. Six silver inlays hold the barrel keys. The rifled 39 inch barrel is the original length.
Curly maple of medium quality was used and retains much original surface. A long narrow strip is replaced along the fore end and a small piece replaced at the lock mortise. The expertly reconverted flintlock is marked "Henry Parker Warranted" and is original to the rifle. The double set triggers have engraving on the plate.
Though unsigned, this rifle can be safely attributed to Brelsford based on other signed rifles by him. It is an important early Ohio flintlock rifle and is pictured in Hutzler, Whisker, and on the inside front cover of the Association of Ohio Longrifle Collectors membership roster.
Sold 6/2011