Unsigned Early Flintlock Rifle, Possibly South Carolina, Ca 1790....SALE PENDING 1/4/13

Probably southern and possibly South Carolina this rifle is extremely rare and unusual. Rarer still is its excellent untouched condition and diminutive size.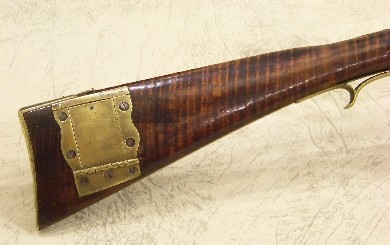 The patchbox is purely functional with little decoration but sturdy and well made. In my opinion, it is not an after thought or later addition. The design is neither overstated nor understated and is at ease with the rest of the rifle.

The trigger guard deviates from the norm in that it has a 3 faceted front extension which diminishes to 2 facets before carrying through to the bow. The rear extension carries the same faceting concept but the grip rail appears to be plain.
The ramrod pipes show 5 facets rather than the usual 3.
The flintlock is in unaltered original condition and original to the rifle. The lock bolt plate is reminiscent of ones used in Rockbridge County, Virginia.
The rifled barrel is only 34 inches long and is the original length. Simple vine and leaf engraving appears on the breech. The entire rifle is only 50 inches long and could have been made for a boy or lady.
The 8 point brass star on the cheekpiece has light vine and leaf engraving. Unusual but accentuated molding extends nearly to the butt plate (not unlike the brass barreled gun).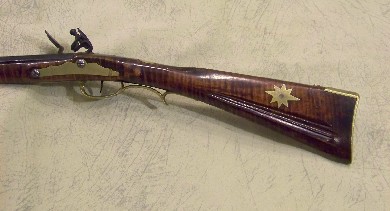 A flat butt plate denotes an early rifle as does the wide trigger guard and early style rifling. The lock is of the 1770 to 1790 period and is original to the rifle. The rifle could date to the late Revolutionary War period. There are no wood losses or replacements and all the mounts are original. Curly maple of this quality and consistency is very desirable.

In Shumway's "Colonial Rifles in America" Vol 2, rifle #135 is attributed to South Carolina. There are similarities between the two rifles but more importantly the singular characteristics of both rifles compels one to consider manufacture in a location far from the familiar rifle making centers in Pa, Md, VA, or NC. Anyone willing to share knowledge about rifles with similar characteristics is welcomed.
SOLD 1/13...STOLEN 12/2013 in Dallas, TX unrecovered

Ex. Coll: Charles D. Cook