Unsigned Frederick Sheetz, Frankford Town, Hampshire County, Virginia (now Fort Ashby, Mineral County, WV) Ca 1810

Born 1774 in Shepherdstown Virginia (now West Virginia), Frederick moved with his family to Frankford in the early 1790's. He worked there as a gunsmith with his father and brothers. He then moved a few miles east to Headsville in about 1814, operated a mill and continued gunsmithing.
Though unsigned, this rifle can be safely attributed to Frederick based on known signed pieces, especially those made for the Hampshire Militia and signed as such. This rifle, retaining the same patchbox, sideplate, and other details of his militia rifles, has embellishments not seen on the signed contract pieces.
The trigger guard, rear ramrod pipe, butt plate, and forestock molding are just like those on his signed civilian rifles.
The carved fluted beaver tail behind the barrel tang, elongated scroll terminating the forestock molding, and the forestock molding itself are details non-existant on his contract rifles. Dating the rifle to his contract period, 1808 to 1815, is quite plausible since all other civilian rifles he produced have more elaborate patchboxes.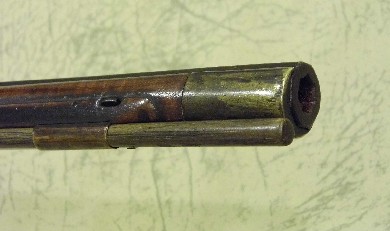 The 44 inch barrel retains most of its original rifling and is about .50 calibre.
The flintlock is the type seen on his militia rifles. He made his own locks rather than purchasing them to save money on the contract.
Surface condition is wonderful with old undisturbed finish and unpolished brass.
SOLD 4/2012