Unsigned Henry Spitzer, "Forks of the James" Rockbridge County, VA ca 1790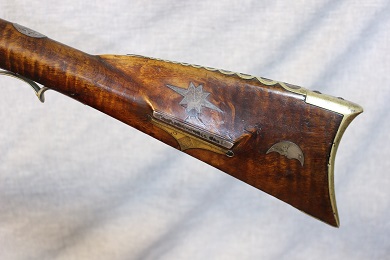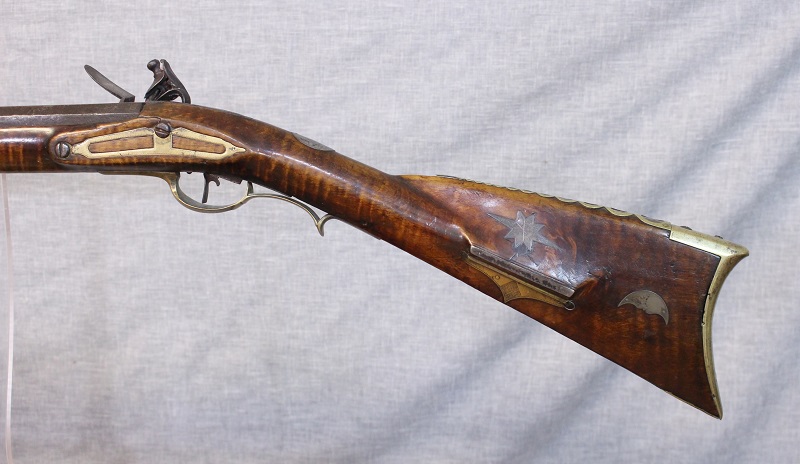 This rifle is a work of art, safely attributed to Henry Spitzer before he moved to New Market (from Rockbrigdge County) in 1795. Another similar but less artistic rifle by Spitzer is signed "New Market Made H Spitzer" and has been dated to 1795 based on the man for whom it was made (as engraved on the patchbox lid) moved from Shenadoah County to Kentucky late that year. The two rifles have the same inlays on the cheekpiece and behind the cheekpiece. They also share the same long comb plate, however this example has a series of graduated circles. Both barrel tangs are identicle and singular in the Valley. The pierced side plate is common of Spitzer's rifles.

The Eagle finial patchbox is the finest on any Kentucky rifle of the period and stands out as a beautiful work of art. Spitzer changed his stock architecture when he moved to New Market so as to conform to the existing style in Shenandoah County. The architecture of this rifle has a long wrist extending into the comb of the wide butt stock. The patchbox lid does not overlap the butt plate which is common in the region. The octagon to round barrel is restored to 45.5 inches and about .60 cal. Excellent and accurate restoration was done by Wallace Gusler. It has it's original 1790's style lock signed Ketland & co. The quality and rarity of this rifle establish the price.

SOLD 6/21