SOLD Unsigned Iron Mounted Sheetz Rifle, Virginia, Third Quarter of the 18th Century

For many years this icon of iron mounted Virginia rifles has been attributed to Phillip Sheetz of Shepherdstown, Virginia (now West Virginia). Philip trained near Hanover PA with George Unkafer. He and his brother Henry established their gusmithing business in Shepherdstown by 1772. He contracted to make guns for the Committee of Safety and for the State of Maryland. He died in Shepherdstown in 1793 at the age of 55.
The rifle is pictured in numerous books. Whisker pictures it on page 100 of the Second Edition "Gunsmiths of West Virginia", page 108 paper-back "Gunsmiths & Allied Tradesmen of Virginia", #343 in "Kentucky Rifle Patchboxes", Volume 2 by Chandler & Whisker, Arms Makers of Colonial America (1992) Whisker, and pictured and discussed in "American Tradition" a publication of the Contemporary Longrifle Association.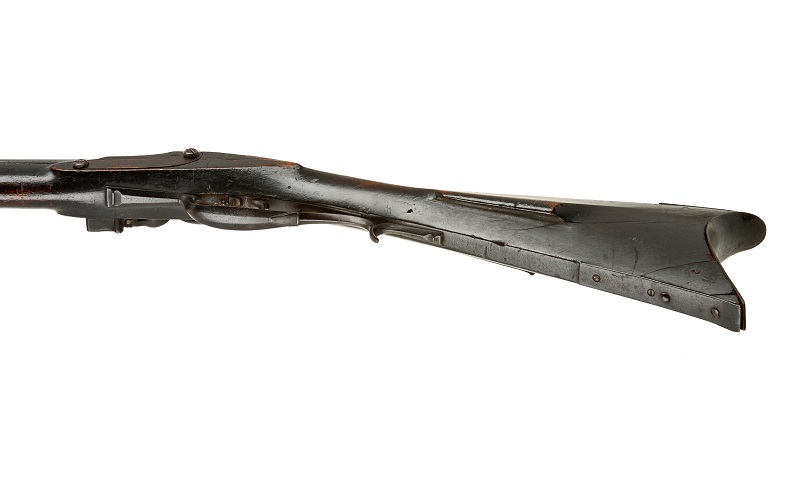 Comparison of this rifle to those by John Sheets of Staunton, Virginia shows similarities even though no signed iron mounted rifles are known by him. At present, a family relationship between Philip Sheetz and John Sheets is not known.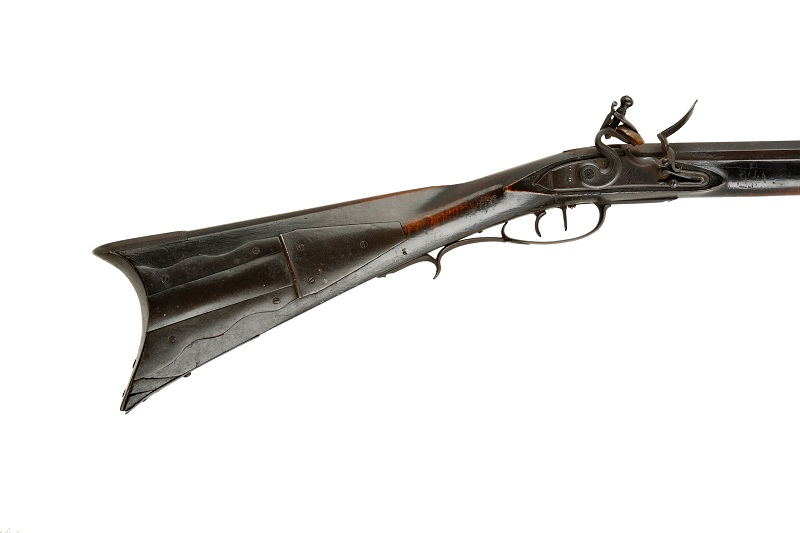 Few rifles of the 18th century remain in pristine untouched original condition. This example has a tiny wood loss along the fore end and typical cracks at the toe (now stabilized). The lock is original to the rifle and in original flintlock condition signed "Ketland & Co". The surface of the wood and iron are near perfect and extremely pleasing.
During the 3rd quarter of the 18th century gunsmiths hand filed iron barrels tapering them from the breech to within several inches of the muzzle, then flaring the remaining portion. This was done to lessen the weight of the barrel and giving it a pleasing appearance. The 46 inch barrel on this rifle is tapered to within 16 inches of the muzzle then flares to nearly the width at the breech giving it a long slender look. A silver blade front sight is soldered into a slot cut into the barrel rather than the usual dovetailed arrangement. A 54 cal. bore retains deep rifling grooves.
Virtually undecorated, it was likely made for a longhunter who wanted a durable rifle without reflective surfaces that may catch the eye of his prey or a foe. In the 18th century a longhunter would leave home heading west with a pack horse or mule and provisions for an extended hunting trip. They would hunt and trap collecting furs and skins eventually reaching the Mississippi river where they would travel by boat to Natchez or New Orleans. There they would sell their furs and return home via the Natchez Trace or other routes. As settlements were established in Kentucky and Tennessee longhunters were able to trade without the long dangerous trip to New Orleans and back.
Another likely owner of this rifle would have been a ranger. A rugged individual familiar with a backcountry region and paid by local government to patrol and alert residents and militia of pending attacks by Indians. Without these backwoods scouts who would cover miles on foot settlers would be attacked by surprise rather than gather at fortified stations for protection. However this early rifle was used it is steeped in backcountry culture.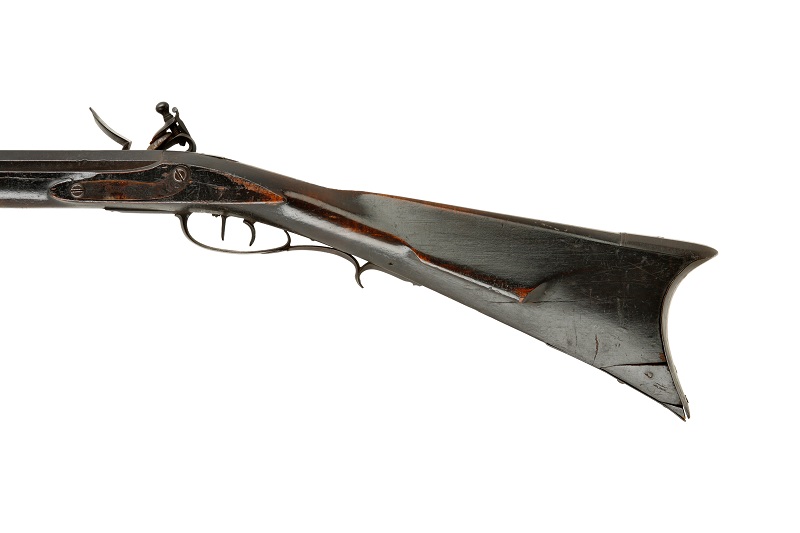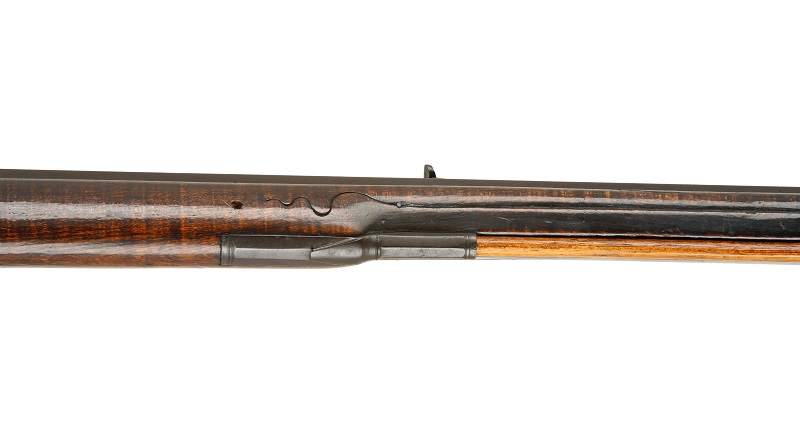 Though unsigned and undecorated this example represents a rarity for an 18th century rifle. Most early rifles are brass mounted with carving and a few silver inlays that were highly prized by their owners. The survival rate for the "pretty rifles" is far better than for the working tool of the frontiersman or longhunter. Survival of this type of rifle in this condition together with high quality forged and hand shaped iron mounts by a gunsmith whose known for working in brass establishes this as an icon of Kentucky rifles.
Ex Coll: New England collector, R E Neville, John Ashworth, Wayne Elliott

Photo credit Ric Lambert

SOLD