Signed "J Crummey" John Crummey, Harrisonburg, Virginia ca 1810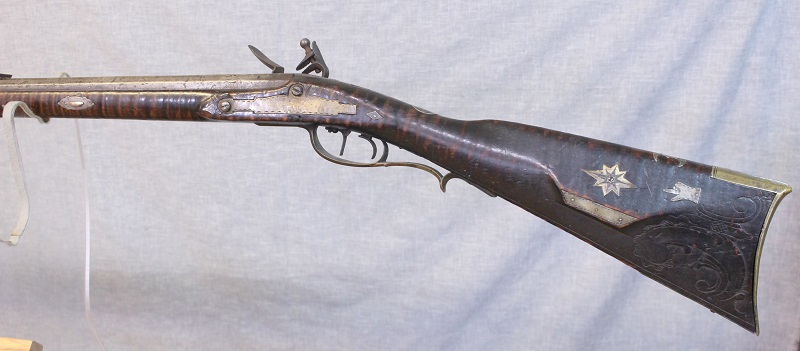 Brief mention of John Crummey by Wayland in his "History of Rockingham County" identifies him as a gunsmith in 1826. Tax records list him as a gunsmith from 1805 to 1832. He was a justice of the peace in 1818. Surely there is more known about him but little is published. What has survived are rifles he made and signed, usually in stamped block letters but occasionally in script. His design characteristics are closely related to those of the Winchester school 60 miles north in the Shenandoah Valley.

This rifle is a slender and architecturally pleasing example, incorporating a tall butt plate, high comb, thin wrist, and rifled .50 cal barrel now 43 inches. Superior architecture is a prerequisite for a great Kentucky rifle whether highly decorated or restrained in ornament. There is no restraint of ornament on this example! Releif carving is desirable on any Kentucky rifle and greatly enhances the value. The few existing carved Shenandaoh Valley rifles are carved low in relief as is this example that creates a three dimentional effect. Expertly reconverted to flintlock, the lock is original to the rifle.

Silver double acorn escutcheon inlays are typical on many Shenandoah Valley rifles and appears on this example not only on the forearm but along the forestock as well. The first two at the forearm are engraved the remaining are smaller and are not engraved. An engraved finger pointing hand is inlaid on the cheekpiece; a symbol seen on his rifles as well as some in Shenandoah County to the north. Many silver inlays adorn the beautiful curly maple stock including a half moon on the comb. A silver coffin shaped inlay in front of the toe plate is to hold a vent pick.

This example is one of John's best and remains with wonderful old surfaces and pleasing decorative details. Yet it was abused during its period of use. There is a roadmap of old trauma, old repair, and new restoration that is easy to follow. At some point the forestock was broken, the second ramrod pipe yanked out. This must have occurred before it was reconverted to percussion and the barrel rebreeched. The gunsmith formed a new piece of forestock and inserted iron pins from the old wood into the new. He chose a similarly grained piece of curly maple for the repair. He also added an underpinning loop near the joint for more support, however, a pin was used here rather than a wedge. Incidently, John Crummey used copper underpinng drawloops. The similar surface and color of the old repair shows it was done decades before the gun was retired.

The set triggers appear to be original to the rifle. However, John Sheets (and Henry) made and used this style set triggers. Though repaired in the 19th century and professionally restored in the past decade the rifle remains as a wonderful work of art. The condition is pleasing and shows that these rifles were made to last; updated, repaird, and maintained for generations. It gives an opportunity for the collector to own a great example at a reasonable price. Currently, on the market, a similar, slightly less artistic, but pristine example is availabe in the $40,000 range.
Available $16,850.00