Signed "J Crummey" Harrisonburg, Rockingham County, VA Ca. 1815
Brief mention of John Crummey by Wayland in his "History of Rockingham County" identifies him as a gunsmith in 1826. Tax records list him as a gunsmith from 1805 to 1832. He was a justice of the peace in 1818. Surely there is more known about him but little is published. What has survived are a few of the rifles he made and signed, usually in stamped block letters but occasionally in script. His design characteristics are closely related to those of the Winchester school 60 miles north in the Shenandoah Valley.
This rifle is a most slender and architecturally pleasing example, incorporating a tall butt plate, high comb, thin wrist, and long barrel (44.25 inches). Superior architecture is a prerequisite for a great Kentucky rifle whether highly decorated or restrained in  ornament.
The four-petal flower patchbox is typical of John's work and is beautifully engraved. The surface has not been cleaned, polished, or damaged, as is the case for all the metal mounts.
Expertly reconverted to flintlock, the lock is original to the rifle. It is signed Ketland & Co.

Double acorn escutcheons protect the stock at the first barrel wedge. The remaining 3 wedges are capped in silver 2 of which are original. One double acorn escutcheon is expertly restored.
An engraved 8 point silver star is inlaid on the cheekpiece.  The incised carving in front and to the rear of the cheekpiece is well designed and executed in the upper Valley style. (Notice similarity to the S Lauck rifle pictured). The triangular piece of wood at the toe is not a replacement, but rather originally glued up so he could use this slightly undersized piece of curly maple for the stock.
The toe plate has successfully kept it in place all these years.
The curly maple is of excellent quality with consistent curl from toe to muzzle. The entire surface has a wonderful chestnut color and has never been harshly cleaned. Small pieces of wood have been missing behind the rear ramrod pipe and in front of the trigger guard for most of the rifles' existence. About 2 inches of wood has been expertly pieced at the muzzle. The fore end cap may be replaced.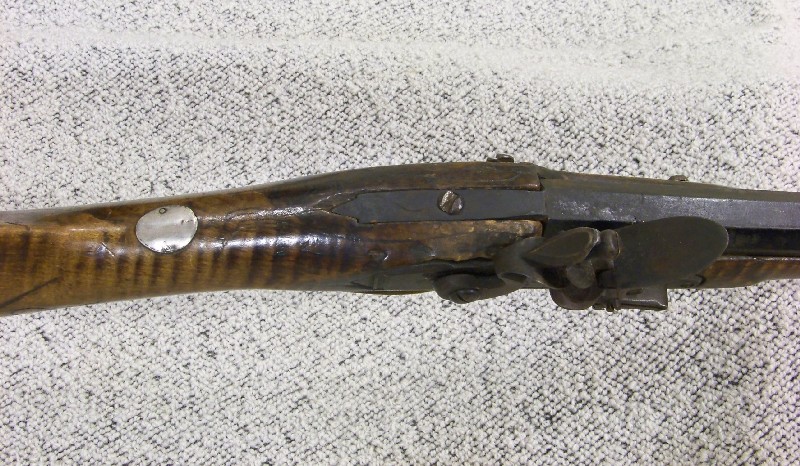 Incised carving surrounds the barrel tang and stretches to the silver thumb plate.

Though extremely rare, a few Crummey rifles exist; some are more decorative. This rifle excels in its quality of curly maple, pleasing architectural form, surface condition, and originality. It is a pleasure to handle and study.
SOLD 2/2014
Ex. Coll: Wallace Gusler, James Survil, Frank Kobilis, Mike Tuccori