Signed, "JS", Jacob Stoudenour, Colerain Township, Bedford County, PA Ca 1820


Born in Maryland in 1795, Jacob Stoudenour most likely learned his trade before moving to Colerain Township in 1819. Details on the rifle suggest George Schroyer as his master. Peter White and John Armstrong are possible masters also. Of interest is that Peter White left Colerain in 1819 moving to Uniontown, PA. Could Peter have encouraged Jacob to take over his business in Colerain?
Clearly, this rifle indicates Stoudenour's rich background in the Emmitsburg/Hanover style. While Schroyer used a similar patchbox, Stoudenmour decorates this one with several tiny bell flowers. The Indian head motif is seen on Schroyer's work as well.
The Germantic style lock is original to the rifle and has been expertly reconverted to flintlock. Jacob made and used locks in the typical Bedford style on later rifles. He signed many of these locks "JS" in script.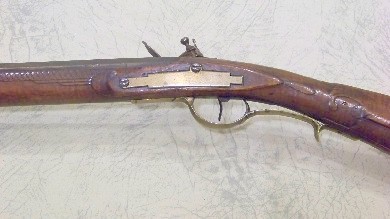 The side plate or lock bolt plate is of Schroyer style and is seen on a rifle by Joseph Mills of the same period who also worked in Colerain.
A beautiful molding with cross hatching extends from the front of the lock mortise panels and an exquisite molding creates a slender appearance to the fore stock.
Relief carving composed of simple C scrolls in the Bedford style is found in front of and behind the cheek piece.
Jacob signed this rifle in a singular way. His initials, "JS" in script are incised into the top of the wrist behind the barrel tang. Usually the rifle owner's initials are engraved on a silver thumb plate in this location. Because there are numerous details on this rifle associated with fully signed Stoudenour examples, a few of his pieces are simply signed "JS", and his Maryland connection I feel this is a valid signature rather than mere speculation or careless attribution.
A simple pinwheel design is engraved on the toe plate.
The condition is wonderful with the original barrel length (44 inches), original lock, all metal mounts are original, the entire surface has beautiful patina and has never been scrubbed. A ¼ x 3 inch sliver of wood has been restored near the muzzle.

Though Peter White can be credited with establishing the Bedford style it was Jacob Stoudenour who continued the high standards in numerous examples he produced. He remained in Colerain till his death in 1863.


Sold in March 2011, recently re-acquired


SOLD (again) 3/2017