Signed "J Sheets" John Sheets, Staunton, Virginia ca 1820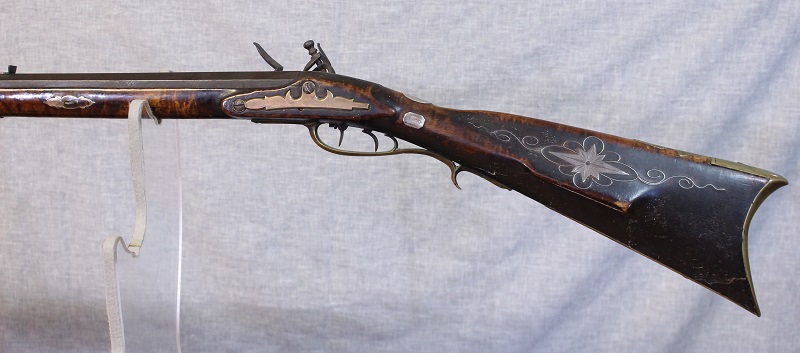 John Sheets worked in Winchester with Simon Lauck in the mid 1790's. He then set up shop 90 miles south in Staunton, Augusta County, Virginia where he worked from the late 1790's. While in Staunton he trained his son Henry, other gunsmiths, and set the standard for quality rifles in the region. He and Henry moved to Huntersville, (now) West Virginia in 1832 and then 2 years later moved to Union, Ohio. His premiere example is on display at the Dewitt Wallace center Colonial Williamsburg.

The 4-petal flower patchbox has pierced upper and lower plates with beautiful engraving on the lid as well. An engraved silver 8-point star is inlaid on the cheekpiece with masterfully executed silver wire inlay surrounding the star. A bevelled sideplate in the style seen on most of John's work is countersunk for the lock bolts. The horizontal set screw arrangement for the set triggers is seen on nearly all John Sheets rifles and those by his son Henry.

Silver double acorn escutcheon inlays are typical on many Shenandoah Valley rifles and appears on this example. An engraved acorn is inlaid on the comb and engraved silver inlays appear on each side of the wrist and one in the piercing of the patchbox finial. The condition of this rifle is noteworthy as the elaborate curly maple stock is covered in old untouched patina. All mounts and inlays, even every piece of silver wire inlay is original. The rifled 47- inch barrel is about .45 cal and signed in script "J Sheets". The early , if not original, ramrod is several inches longer than the barrel to facilitate loading and cleaning; the end shows it has withstood many firings leaving a dark surface.

This example of John Sheets work is one of his best and remains with wonderful old surfaces. Cracks at the toe and fore stock were stabilized without disturbing the surrounding finish.

Ex. Coll: Doug Douglas.. Thanks to Gordon Barlow for bio information on the Sheets'

Available $32,850.00 price reduced to $29,500 until 12/31/2023