Signed "J Montague" Shenandoah Valley, Virginia ca 1815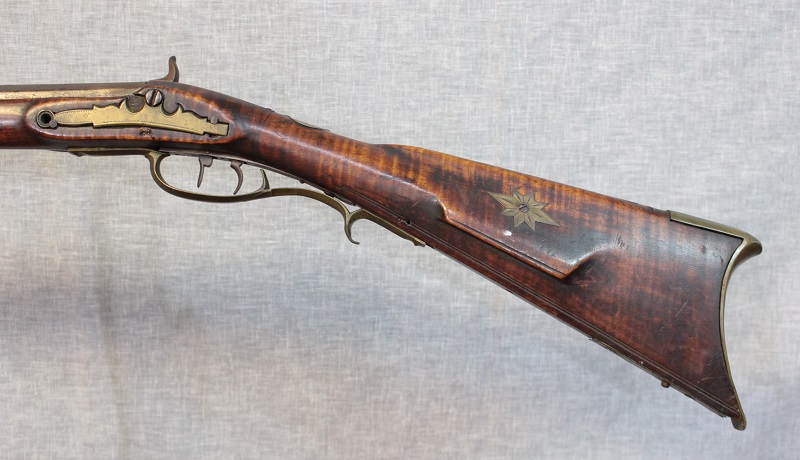 John Montague apparently learned his trade from John Sheets in Staunton, Virginia based on similarities in design characteristics. This is the second known signed Montague rifle. Madison Grant owned a signed example having acorns and silver wire on the cheekpiece. He donated it to Colonial Willimasburg before his death in the 1980's. This example was discovered by Gerald Neaves a couple years ago and remains in unrestored condition. The rifle is in need of repair and stabilization but total restoration may be a mistake since it has undergone well-done changes during its period of use. Excellent curly maple was used and retains wonderful old surfaces. When converted a new percussion lock was used; brass brackets were added to fill in the gaps left by the original lock. The rifled .45 cal 42.5 inch barrel is tapered and flared at the muzzle; originally about 47 inches long. The trigger guard is original but was moved forward to accomodate set triggers.

Of interest are the silver shell forestock escutcheons. Similar inlays are present on a signed John Sheets rifle. Of further interest are the small S-shaped terminations to the forestock and lower butt molding in the style seen on rifles from Lexington, Kentucky. A higly decorative rifle made in Kentucky signed "J Renick" has strong similarities to John Sheets work. Is it possible that Montague influenced Renick rather than Sheets? This rifle is worth spending the time and effort because of its rarity and beauty. It is also well worth the asking price if you want to leave it as is.

SOLD 5/2020