Silver Mounted Brass Barreled Flintlock Pistol, South Carolina, Georgia, or Alabama, Ca 1830

Here is an extremely rare pistol stocked in American black walnut (with an untouched original finish) with silver mounts and silver overlays. It is closely related to the work of Wiley Higgins and probably by one of the Higgins family members, many of whom were gunsmiths.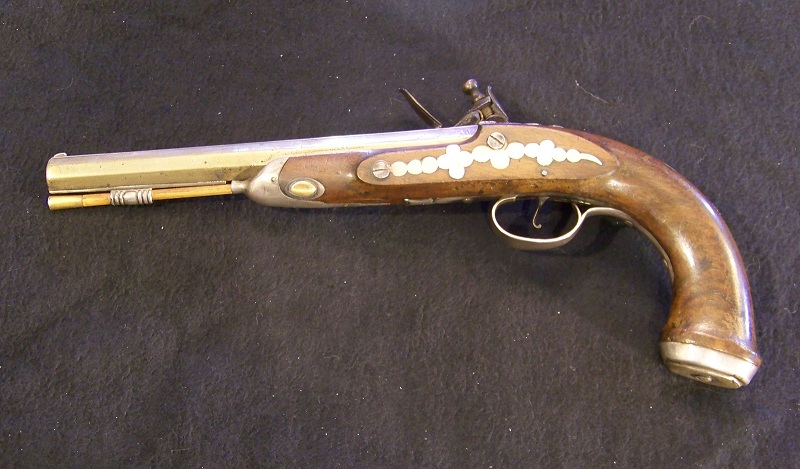 The lock is in unaltered flintlock condition and original to the pistol. It is marked "Warranted" in block letters and probably imported from England.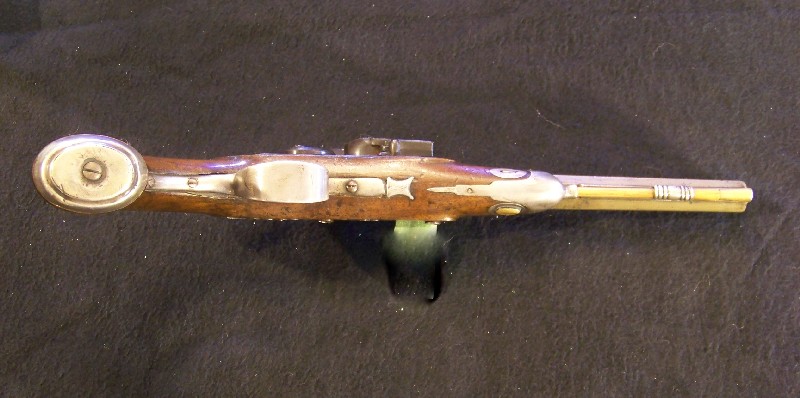 The pistol is entirely silver mounted with a cast triggerguard and front ramrod pipe. It has a sheet silver butt cap, fore end cap, and inlays. The unique 2-piece sideplate may be Sheffield silver as hints of brass show through. A silver plate holding the ramrod pipe is soldered to the underside of the brass barrel.
Overall length is 13 & 1/4 inches and the barrel measures 8 & ¼ inches. There is a silver plate soldered onto the top flat of the barrel and silver overlay covering the barrel tang. Notice the unusal pierced heart inlay behind the barrel tang. At least 2 gunsmiths used this Valentine motif incorporated into their signature both of who have the first name Valentine.

The rarity and beauty of this exquisite pistol renders it a valuable addition to any collection be it Kentucky rifles or antique firearms in general.

Available at SOLD 4/2013