Associated with Henry Koch, Cumberland County, PA ca 1830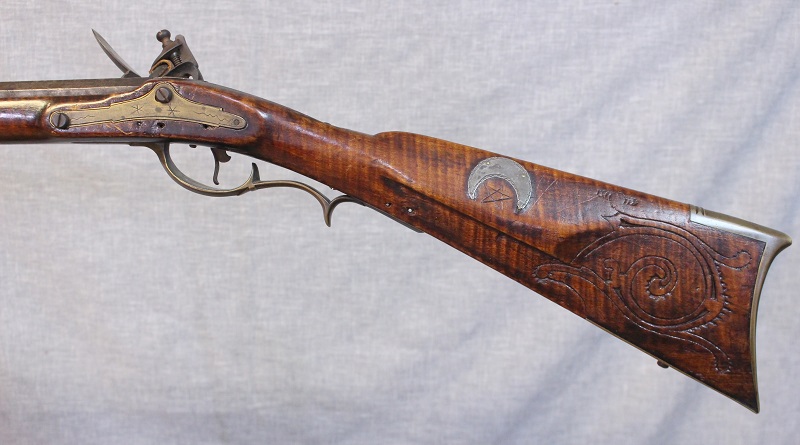 This rifle is signed on the barrel but unfortunatly it is difficult to read. Based on the design and engraving of the upper and lower plates of the patchbox it closely resembles the work of Henry Koch. It may be someone associated with him or associated with the Emmitsburg School.

It was converted to percussion in the 1830's and the barrel shortened at the breech. In recent years the rifle was converted back to flintlock using an 1803 Harpers Ferry lock altered to fit the lock mortise. The stock has a new coat of finish, maybe shellac. It is an attractive rifle in need of some work or it can be enjoyed as is.

Available at $2,450.00

---
SOLD SOLD Unsigned Possibly Frederick Orwan, New Bloomfield, Perry County, PA ca 1825

Fortunately this rifle has survived horrible conditions and abuse. It is full of unusual details. The inlays are of bone and would be a challange to replace and repair the missing ones. The octagon to round barrel is 43 inches; its original length. The converted lock is original to the rifle. The wood is maple but lacks a nice curl to the grain. This is a great rifle for the advanced restorer.

SOLD 3/23

---
SOLD SOLD Signed "Siple" Christian Siple, Swatara Township, Dauphin County, PA ca 1820

Chrsitian Siple trained in Lancaster and moved to Dauphin County in 1808. This example is signed and carries his typical patchbox the lid ofwhich is repaired in period. Broken through the lock area and missing its forestock, lock, and side plate this is a labor intensive restoration project. It has a nice old surface, checkering, and a 42" barrel about .50 cal.

SOLD 2/23/span>

---
---