Signed "S BRYANT" Silas Bryant, Covington, Kent County, Kentucky 1830

Silas Bryant was born in New Jersey in 1800. He located in Cincinnati before moving to Covington.
The rifle exists in original pristine untouched condition with decorative details typical on Kentucky made rifles.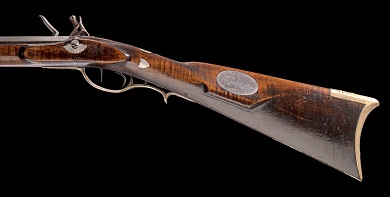 Always cared for and stored in a favorable environment the condition of this rifle is without apology; as good as it gets for a nearly 200 year old rifle.
Exhibited at the National Firearms Museum


Photo Credit Kenneth Orr with permission from the Kentucky Rifle Foundation


SOLD 11/17