Unsigned John Shriver, York County, Pennsylvania ca 1785

John Shriver worked in Hanover, York County and was influenced by George Shcroyer. Later he moved to Heidelberg, Adams County and his style changed after 1800. This example carries a slender 45.5 inch barrel (the original length); about .50 cal. The thin wrist graduates to a generous butt stockmaking a pleasing architectural form.
John's relief carving is well executed and designed in the American Rococo style. It remains high in relief even with moderate wear. The patchbox is an interesting and effective design utilizing simplistic engraving. The silver thumb plate is the only inlay present; not uncommon for rifles of this early period.
There is no restoration on this rifle other than a reconversion. The barrel length is original as well as the lock. For a rifle of this age to come down to us in this condition is amazing. There are some unexplained cracks at the top of the comb and to the rear of the lock; they dont seem to be caused by mishandling or impact. A crack near the fore end cap is similar; it is stable with no apparent gluing or repair. It's possible these cracks are actually flaws in the wood that eventually deteriorated over the years.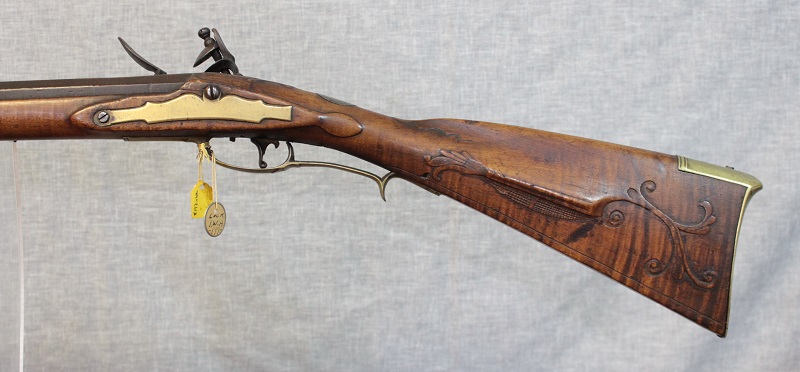 The price reflects the rarity, condition, quality, and desirablility of this rifle.

Available at $44,500.00 price reduced to $39,950 until 12/31/2023(consignment)