Unsigned Silver Mounted Rifle, Central Tennessee/Kentucky ca 1825


A very decorative rifle completely mounted in coin silver including trigger guard and butt plate. Unsigned and unattributed this rifle has details of North Carolina, central Tennessee and south- central Kentucky. The style of patchbox and trigger guard is seen on rifles from western Pennsylvania, southern Ohio, or Covington, KY and the style of sideplate seen on rifles from Bardstown, KY. Architecture, barrel length, caliber, lock mortise, elongated barrel tang, and workmanship are the strongest details relating the rifle to the central Tennessee/Kentucky region. The gunsmith most likely learned his trade in the 1790's in North Carolina and moved westward as the rifle has a fine early feel.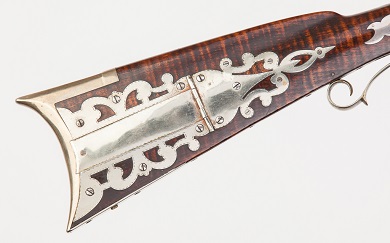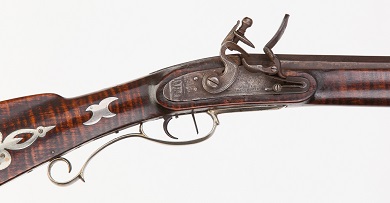 The barrel is 48 inches long with about a .42 caliber bore. It has 3 underpinning loops the gunsmith used to hold the barrel to the stock during its manufacture. He then added 4 draw loops (one where the third underpinning loop was) and wedge keys with 8 point star escutcheons. The barrel tang is elongated and flared yet one tang screw is used. An uncommon buckhorn sight is present.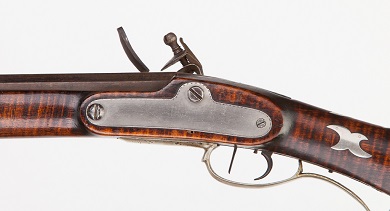 Most commonly rear ramrod pipes contain a tang portion that protects the fore arm immediately behind the pipe. This rifle has no tang on the rear ramrod pipe but has a semi-circular plate soldered to the pipe as seen on many later iron-mounted eastern Tennessee rifles. Several silver 8 point star inlays of unusual design enhance the stock where the 3 top and 3 bottom points are perpendicular to the left & right side points. A similar but more provincial 8-point star appears on rifles from the Jamestown school in North Carolina.
Several silver capped wood screws are used on the patchbox, toe plate, and lockbolt plate (sideplate). Jacob Young, (the famous central Tennessee gunsmith) used silver capped screws as well as gold capped screws on his fine rifles. Unlike Young, Simpson, Wilson, and other great central Tennessee gunsmiths the maker of this rifle was not an accomplished engraver. He simply engraved a series of minute wiggle work details outlining the patchbox and inlays. Nevertheless his design and execution of the mounts and inlays show a similar level of refinement.
Several details are used to date a rifle and the rifle can be no earlier than its latest detail. The lock is original to the rifle and, with the rounded tail, helps date this example to the 1820's. The condition is superb with only minor restoration. 2 pieces of wood replaced; the first between the barrel tang and lock, the second in front of the frizzen. No mounts or inlays have been replaced. The surface was cleaned at one time but never scrubbed of sanded.
At some future time I suspect a similar but less costly example of this man's work will surface and will establish his identity. There are multiple unique design characteristics that offer the possibility of attribution. For now the buyer should focus on the beautiful architecture, stunning silver mounts and inlays, excellent workmanship, pleasing curly maple, nice condition and originality, and rarity. A future attribution will be an added bonus to such a beautiful Southern rifle.

photo credit Mark Elliott

SOLD 4/18